handelingen / acts
- 2011 -
publication, edition of 25 numbered copies
choreographies: Nicoline Timmer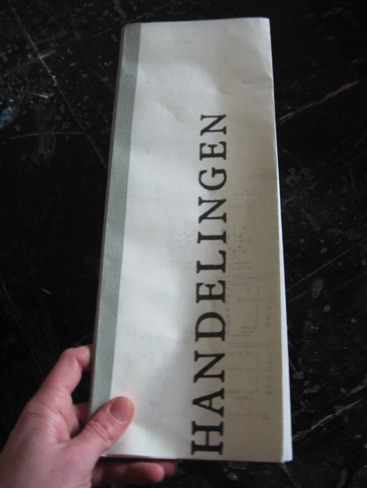 HANDELINGEN (ACTS) is a project including a book, containing four choreographies of obsessive-compulsive behaviour in the dance language Labanotation, and the performance of these choreographies.
An outsider may find no logic in what exactly could be the reason for the repeated, introvert movements someone suffering from obsessive-compulsive disorder has to perform; these compulsory acts seem without meaning, yet they have a clear function and are very precise. From a distance these compulsory movements appear to be the enactment of a secret choreography.
The publication HANDELINGEN (ACTS) consists of transcriptions of four such movements or compulsive rituals of a person with OCD, 'Anne'. As a way to open up and allow others to envision an enclosed, very private experience world in which someone like Anne seems imprisoned, I translated these movements into the universal, objective symbols of the dance language Labanotation. This way a very private and idiosyncratic experience of self and time becomes suddenly communicable, through the medium of dance.